Second week done. Looking back to the last two weeks, I think Miguel and I was a fabulous team. Naturally, I want here also to thank all the people who helped us, our team mates, our colleagues at home, from whom we can everytime request their professional experience. And I am looking forward confidently to the October 1st, when we will deliver our final document to the management of the Avert Society.
The team mate whom I want to introduce today is Doug. Doug Kinnaird is an IT architect and consultant in Calgary, Canada. So, in principle we have the same job. We go to our clients, do there projects. Like me Doug works often in another city as his home and have to spend his week in hotels. From the first Morning on (maybe you remember, I was waked up at that morning from a gush of rain knocking on the window, already that morning he was out there) he went out jogging, 20 (twenty) km long, EVERYDAY! In the most crazy traffic of the world. I marvel this persistency. Often I have the feeling that Doug has the same method of approach to learn the environment and the people, but I never got the chance to talk with him about that. Has that same approach somehow to do with our profession?
Doug teams with Fabio to help Pratham to evaluate and make suggestion for their ICT system. Doug told us that Pratham means "First".
---
Die zweite Woche ist gerade zu Ende gegangen. Rückblickend denke ich dass Miguel und ich in den letzten zwei Wochen ein perfektes Team gebildet haben. Ich möchte natürlich an diese Stelle auch all jenen Menschen danken, die uns gefolgen haben: Unsere Teammitglieder und unsere Kollegen zuhause, von denen wir jede Zeit nach ihren professionellen Unterstützungen fragen konnten. Ich blicke zuversichtlich auf den Ersten Oktober, wenn wir unsere Abschlussdokument an der Management der Avert Society übergeben werden.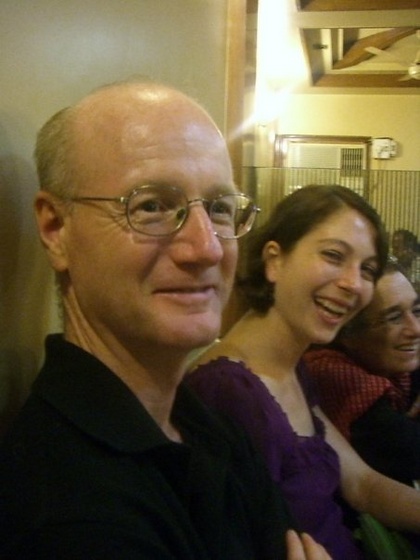 Der Teamkollege, den ich heute vorstellen möchte, ist Doug. Doug Kinnaird ist ein IT Architekt und Consultant aus Calgary, Canada. Im Prinziphaben wir also den gleichen Job. Wir gehen zu unseren Kunden und führen dort Projekte aus. Wie ich arbeitet Doug oft nicht in der Stadt, in der er Zuhause ist und muss seine Woche im Hotel verbringen. Vom ersten Morgen an (wahrscheinlich erinnert Ihr Euch noch, dass ich an dem Morgen von einem Regenguss aufgeweckt wurde, der am Fenster klopfte) war er draussen Joggen, 20 (zwanzig) Kilometer lang, JEDEN TAG! In der verrücktesten Verkehr der Welt. Ich bewundere seine Beharrlichkeit. Ich habe oft das Gefühl, dass methodig Doug und ich sehr ähnliches Vorgehensweise verfolgen, wenn es darum geht, Menschen und Umgebung zu erkunden, allerdings habe ich bislang noch nie Gelegenheit gehabt, mit him darüber zu unterhalten. Beruht diese Ähnlichkeit auf unsere Arbeit?
Doug arbeitet mit Fabio zusammen, um Prathams ICT zu evaluieren und Vorschläge zu machen. Doug sagte uns, dass Pratham "Erster" heißt.
---
第二周结束了。回顾过去的两周我想Miguel和我组成了一个完美的工作组。当然,我想借此机会感谢所有帮助我们的人:我们的小组成员,以及所有我们家乡的同事,我们随时都可以向他们征求他们的专业知识。我对十月一日向Avert Society的经理人员交付我们的最终文献充满信心。
今天我想介绍的小组成员是Doug。Doug Kinnaird(道格·金奈尔德)是驻加拿大卡尔加里的信息技术建筑师和顾问。原则上他的工作和我的完全相同:我们去顾客那里完成项目。因此他和我一样往往不在住的城市里工作,而是在工作日里住在旅店里。从我们到达的第一天早晨起(也许你们还记得那天早上我被一阵倾盆大雨唤醒)他坚持跑步,20(二十)公里,每天!穿越世界上最疯狂的交通。我赞慕他的耐力。有时我觉得我们俩使用非常类似的方法来研究我们周围的环境和人,不过至今为止我还没有时间和他讨论这个问题。这个类似的方法是否与我们的职业有关?
Doug和Fabio一起帮助Pratham估价和策划Pratham的信息和通讯技术。他告诉我们Pratham是"第一"的意思。