Day Nine in Mumbai. It is Monday, and crazily the last Monday we must work in this month. So while our work progresses good and we made a meeting with Mr. Narayan again to make our weekly status report, I want to introduce you today Do Yeong.
Do Yeong Kim comes from IBM South Korea. He is a software sales representative. He has an amazing career. He was educated as a nuclear scientist, had worked for the South Korean government in this area. He served three years in the armee and retired as a reserve officer. And now he works by IBM. He is one of the person who surprised me at most. During our prework and our weekly call at that time he was the most quiet person. But when we actually meet him in person, he is the one who always laughs and have fun. He is not shy at all, talks a lot, and curious and interested in almost everything. Everytime when I see him laughing, I must grin also, he is simply unresistable.
When we was at Kabi's house for the cooking lesson I asked him about his view of the Korean penisular. Although he is aware of the tremendous work that must be done and the lesson from Germany he supports the reunion with North Korea. I find this is very brave.
Do Yeong works with Dawn together for IVolunteer.
---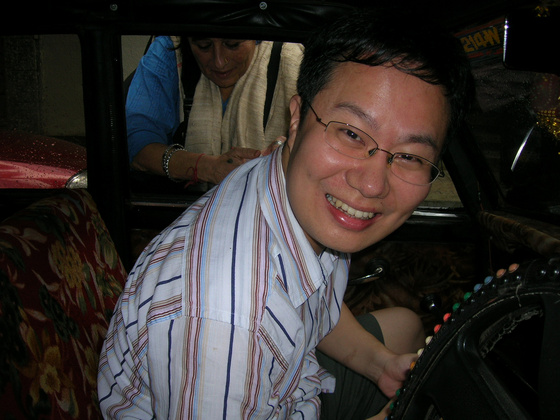 Tag Neun in Bombay. Es ist Montag. Verrückterweise der letzte Montag, an dem wir arbeiten müssen. Unsere Arbeit schreitet voran, wir hatten heue wieder ein Statusmeeting mit Herrn Narayan. Ich möchte heute vor allem Do Yeon vorstellen.
Do Yeon Kim kommt aus IBM Südkorea. Er ist ein Software Sales Representative. Er hat eine Karriere volle überraschende Wendungen: Er hatte Kernphysik studiert, hatte in diesem Bereich für die südkoreanische Regierung gearbeitet, hatte seinen dreijährigen Wehrdienst in der Armee geleistet und ist jetzt Reserveroffizier. Und nun arbeitet er bei der IBM. Do Yeong ist jemand, der mich am meisten überrascht hat. Bevor wir nach Indien kamen hatten wir zehn Wochen Vorbereitung, während der jede Woche ein Meeting abgehalten wurde. Damals war er die ruhigste Person. Aber als wir ihn tatsächlich trafen, ist er derjenige, der am meisten lacht und Spaß hat. Er ist überhaupt nicht schüchtern und redet sehr viel, ist neugierig und interessiert auf alles. Jedesmal wenn ich ihn lachen sehe, muss ich selbst grinsen, er ist einfach unwiderstehlich.
Als wir in Kabis Haus Kochen lernten, habe ich ihn nach seine Ansicht zur Lager an dem Koreanischen Halbinsel gefragt. Obwohl er wusste, dass es ungeheuerliche Anstrengung bedeutet und er die Erfahrung aus Deutschland bewusst ist, unterstützt er eine Wiedervereinigung mit Nordkorea. Ich finde das sehr mutig.
Do Yeong arbeitet mit Dawn zusammen für IVolunteer.
---
孟买第九天。今天是星期一,古怪的是,这是我们需要工作的最后一个星期一。我们的工作进展顺利,今天我们又和Narayan先生进行了一次状态会议。今天我想介绍Do Yeong。
Do Yeong来自南朝鲜IBM,是那里的推销代表。他的生涯很出奇,他学的是核物理学,曾经以此为南朝政府工作,他从军三年,以预备军官退役,然后开始在IBM工作。Do Yeong是我们当中给我出奇最大的人。 在我们来印度之前做预备工作时每周的电话会议上他是最沉默的人。但是在这里遇到他之后发现他是我们当中笑得最多和最快乐的人。他一点也不害羞。每次看到他笑我也得笑,他真是无以低档。
我们在Kabi家里学做饭的时候我问过他对朝鲜半岛局势的看法。虽然他知道这意味着巨大的努力,虽然他知道德国的前鉴,他还是支持两朝合并。我觉得这很勇敢。
Do Yeong和Dawn一起为IVolunteer工作。